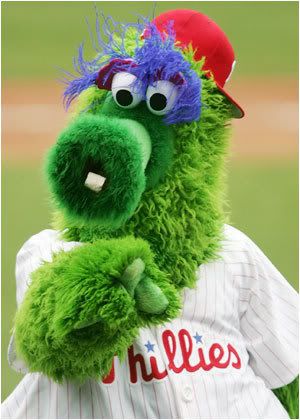 I went to the Phillies' game last night. I was happy to get in a little dose of American tradition before I head across the pond to London. 
I always find athletic events fascinating ... aside from the actual game. At times, I find myself paying more attention to the crowd than to the game itself.
The lady sitting next to us used scissors to punch out the holes on her All-Star Team ballot (Good job, security.). The lady behind us talked on the phone about "American Idol" for the majority of the game. She voted 150 times last week, and apparently she was trying to figure out the designated phone number for a contestant for this week, so that she could vote from the game. There was also almost a fight in the next section.
There was a fan dressed up in a neon pink monkey suit, and another dressed up like a banana. 
I also find it hilarious how interested fans get into guessing the winner of the animated video productions ... which Turkey Hill ice cream container contains the baseball, which bobblehead doll reaches home plate first and which SEPTA subway car crosses the finish line first.
Then, of course, there was the traffic ... which almost killed us a handful of times. I don't think I can adequately express my relief at not having to drive in London.
I did, however, take the train and subway down to the game, which helped alleviate some of the concerns I had about transportation in London. I had never been on a train or subway before, so I was a little nervous about the tube. Honestly, I still am a bit, but less than before. Once I do it once, though, I don't think it will be a problem.
The line for Chickie's and Pete's was hours long, so I couldn't get crab fries, which was sad. (I'll just have to go to the actual restaurant when I get back from the trip ... believe me, the trek is worth it.)
Overall, it was a great time. We won the game! Jayson Werth made an awesome play stealing home, and the crowd's howls of "Raul" and "Ruiz" are always fun ... and the Phanatic is pretty much the best mascot ever. It was just the fix of American culture I needed. 
... Now I'm in the mood for some apple pie.